THE MARAUDER CREED
MIGHT MAKES RIGHT

Let's keep this short. We're the Marauders. We don't make fancy speeches. We don't need preachy causes. The only thing we need is ourselves. The island is stuffed with opportunities for people of ambition. People who take what they want. If you're looking for riches, power, respect ... you've come to the right place.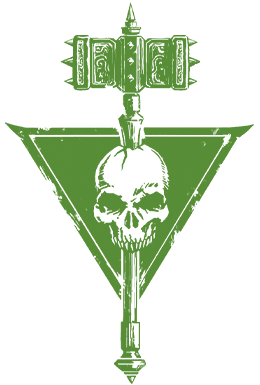 Living examples of the credo Might Makes Right, the Marauders are a ruthless military force of free-spirited fighters working together to achieve a common goal. Individually, Marauders prize independence and power above all else. Collectively, they are bent on establishing a free nation where anyone with the strength and determination to stake a claim can do so. When rallied together, there's no fiercer group of fighters to be found.
OUR PURPOSE
Quite simply, we have our sights set on just one thing in New World — conquest. And we want to do that really, really well. Whether by claiming or warring for territories, we will be training as a company to capture, hold and expand our control of the New World. If you have the heart of a warrior or a craftsman and you're looking for a company with whom to ply your trade, we are interested in you and encourage you to come speak with us on Guilded.
Together, we can make men tremble at the sound of our coming.
ENLIST TODAY!
THE WARRIOR'S CODE
All warriors have a code. It prepares them for battle and defines the rules by which they live. We say these words that follow not as empty gestures but to wed ourselves to our purpose and become the weapons that vanquish our foes.
"Be without fear in the face of your enemies.
Be brave and upright that you may honor your company.
Be fierce and unrelenting, and never ever accept defeat.
Defend the living and deliver justice to the fallen.
Live by the code and die by the code.
That is your duty, soldier of Thorne."
THE SOLDIER'S SACRAMENT
Rituals are important. Through repetition, they turn ideas into practice that become beliefs. We perform these acts not to humble ourselves but to honor our vows and never hesitate in the pursuit of our duty.
"I commit my flesh, my mind and my will to the glory of Thorne,
And to do all that is asked of me to that end.
I pledge myself to our cause and to the destruction of our enemies,
With extreme prejudice, upon the field of battle.
On my name and faith,
So do I swear."
Join the Dominion of Thorne!
Start right now ... and embark on your own story for fame and glory.
A SENSE OF BELONGING
WHAT IT MEANS TO BE A THORNISHMAN

There is perhaps no better way to experience a game than playing it with people you enjoy spending time with. One of the most prominent outcomes of our community building efforts in Thorne has been to see genuine friendships develop between people in our organization — to witness camaraderie develop in a way that's only really possible by experiencing things together.
Much like the Marauders in New World, Thorne is a group to which we can belong, enjoy and contribute without losing our individuality, and it is this symmetry in ideals that underscores our attraction to the Marauder ethos.
WHY JOIN A COMPANY
There are very tangible benefits built into the mechanics of New World for being in a company. Among them:
ENGAGE IN SPECIAL FACTION MISSIONS

Complete missions for XP, Gold, and faction tokens
Earn influence to determine territorial control
Compete strategically against players in other factions
GAIN ACCESS TO ELITE FACTION GEAR

Spend faction tokens on special weapons, armor and consumables
Earn ranks to unlock advanced tiers of gear and crafting components
Access to faction dyes to personalize your armor and weapons
ENJOY THE BENEFITS OF TERRITORIAL CONTROL

Reduced cost for workshops/crafting stations and fast travel
Increased XP and influence gain the more territories we control
Access to town missions to upgrade settlements and crafting stations
STRENGTH IN NUMBERS
Beyond the social and mechanical benefits of company membership are the immediate rewards that arise from group collaboration in a well run unit.
In-game resources and higher level materials will be more accessible to you to improve your tradecraft or better your gear. Your individual progression will be enhanced with the support of an active group at your back ready to help or guide you through whatever challenges you face. And as a member of Thorne specifically, you will be able to participate in training activities to improve your skill.
PERSONALIZED COMPANY GEAR
Most importantly, we will ensure that all our players are well equipped to fulfill their roles effectively and to enjoy the game to its fullest. To that end, company requisitioned gear will be awarded based on player builds, participation and level as follows:
ENLISTED RECRUIT

Initiated Set (level 10)
Novice Set (level 20)
TENURED SOLDIER

Veteran Set (level 30)
Elite Set (level 40)
PROVEN CHAMPION

Legendary Set (level 50)
Epic Set (level 60)
Join the Dominion of Thorne!
Start right now ... and embark on your own story for fame and glory.
THE ORIGINS OF THORNE
FROM WHENCE WE CAME

Established circa 2017, the Dominion of Thorne was a fictional duchy in the (now defunct) MMORPG, Chronicles of Elyria. The game itself was designed around the idea of player run domains ranging from simple hamlets all the way up to entire kingdoms. Thorne was one of those player run domains with a population of several hundred players.
You can read more about that in our Chronicles of Elyria archives.
Today, we are simply a community of adult gamers (21+) with a broad range of interests, from role playing games (RPG) to first person shooters (FPS). We're a tight knit group with a penchant for fun ... and shenanigans. And one of the games we're all in for — and excited to play together — is Amazon's New World MMORPG where we'll have an official presence as a company.
RECRUITMENT
We are currently recruiting actively for New World and seeking players who fit into our culture and ambitions. If you are 21 or older, you have a friendly attitude, you enjoy or excel in team environments and you are willing to take direction/contribute, then we'd love to meet you. So please hop on discord and come chat with us. Or better yet, just get on and let's play some games together.
Aeternum's future is in your hands, recruit. So for whom will you fight?
Join the Dominion of Thorne!
Start right now ... and embark on your own story for fame and glory.